"A very talented artist creating unique artwork."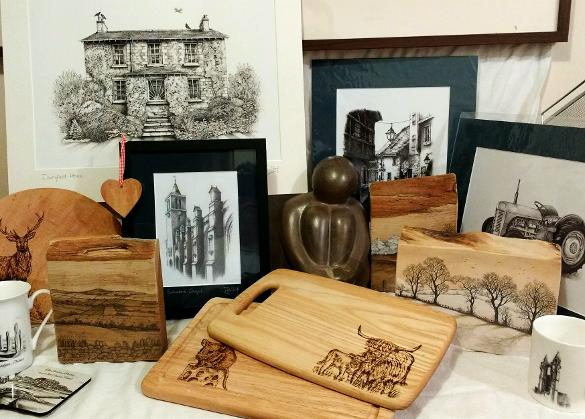 Jonathan Dowling is a Scottish artist based near St Andrews in Fife. He creates unique and original mixed media and graphite artwork using a variety of materials, including graphite, pastel, paint, liquid graphite and pyrography
. He sources most of the wood he uses locally and air-dries, cuts and finishes the wood himself to create a unique, natural canvas upon which he draws. The natural colours and grain of the wood provide him with inspiration for the subjects of his drawings. His work is owned in private collections in Britain, USA, Canada, India, China, France and Spain. He exhibits his work across Scotland and takes part in Open Studios and numerous art and craft fairs.
A wide variety of artwork by Jonathan is available to buy, including original drawings on wood, graphite drawings, mounted and framed prints and greetings cards. There is also a selection of quality bone china mugs, tea towels, tote bags, place mats and coasters. New this year are hand-finished wooden chopping boards, cheeseboards and serving boards and plates. These have hand-drawn pyrography drawings. Jonathan also undertakes private commissions for customers, such as houses, pets, landscapes and wedding venues. An online shop stocking a wide variety of artwork is now open and more products are being added daily.
Please contact him at jonathandowlingart@gmail.com for any questions you may have. The website is regularly updated with new artwork, news and dates for art exhibitions and fairs, etc. You can see some of his artwork in the Galleries accessed at the top of this page.
Due to the current Covid restrictions we won't be taking part in Open Studios, The Pittenweem Arts Festival or any other events this summer, although it is hoped Open Studios North Fife will be going ahead in October and there may be a number of arts and crafts fairs on in the run up to Christmas. Stay tuned for regular updates.
Please visit our online shop at the bottom of this page!
NEW CARDS! NEW CARDS! NEW CARDS! NEW CARDS! NEW CARDS!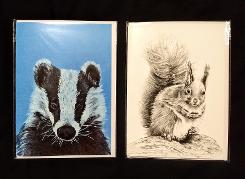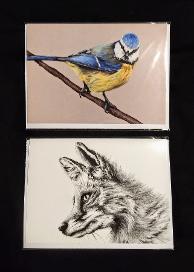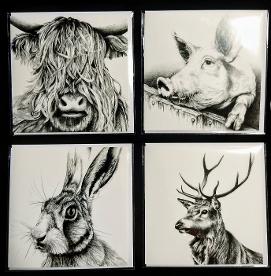 Hot off the printing press, my new wildlife series of cards have arrived. I haven't added them to my shop yet but they are available to buy now. I have 4 square cards (5x5") featuring a hare, stag, pig and highland cow, and 4 rectangular (7x5") cards featuring a blue tit, fox, red squirrel and badger.
A special launch price of £1.50 each for the square cards and £2 each for the rectangular cards. I also have packs of the square cards with 6 cards (3 each of 2 designs or any combination of 6) for £5.50.
Please contact me for an order or more information: jonathandowlingart@gmail.com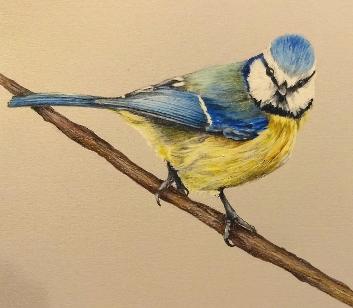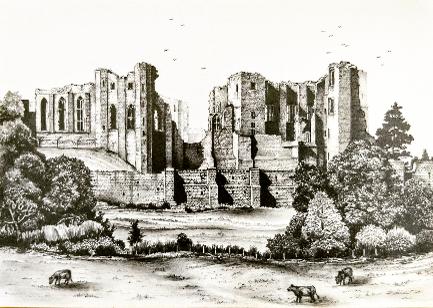 We offer a wide variety of drawings and artwork as quality greetings cards and mounted prints. They are printed on high quality paper and card and come with a recycled, quality envelope and environmentally-kind protective cellophane packaging. On the reverse of most cards is information or a short history of the building or view. A handwritten message can be added by Jonathan for free and posted to anywhere in the UK for the standard postage price (or anywhere in the world for the cost price postage. The full range of cards and prints currently available can be browsed in our online shop but please don't hesitate to contact us for a chat about custom sizes of prints and cards, etc. A framing service is also available at very competitive rates and the frames are specially selected to best suit the style of mount and print. Gift packs of smaller notelet-size cards as well as Christmas/winter cards are also available and are a popular product.
GREETINGS CARDS
Some examples of the styles of card available and the information on the reverse are shown below.
MOUNTED PRINTS
Below are a few examples of the typical styles, sizes and colours of mounted prints we offer. The mounts can be framed too, with one of our quality wooden frames (usually in black or white) or a custom style and/or colour to meet your needs. Likewise we offer a custom mount style, size and colour too if you are looking for something different to our own range. Standard mounted prints (and framed too) can be bought in our online shop but please don't hesitate to contact us if you are looking for something different.
GOLF PRINTS AND CARDS
Growing up in the 'Home of Golf', St Andrews, Jonathan knows the various golf courses in and around the town very well, especially the Old Course. He has drawn a large number of views of the Old Course, as well as the Castle Course. He has recently produced a number of drawings of the golf course in Scotland and the rest of the UK that are currently (and historically) used in the Open Championship. A selection of these golf drawings are shown below. The prints are square and come in a cream and black quality mount, which are made up and signed by Jonathan. Square cards and smaller notelet packs of the most popular drawings are also available.
WOOD ART
Jonathan is well-known for his graphite and pastel drawings on wood, as well as pyrography artwork burnt onto the wood. The pieces of wood range in size from small woodblocks (ideal to hang or display on a shelf or mantle, etc) to large, bespoke slices of wood, which can be several feet across. He often sources and cuts the wood himself or uses high quality kiln-dried oak and other hardwoods. A few examples can be seen on the left. The gallery at the top of the page shows many more and how some of the wood slices are made.
GIFT IDEAS!
Jonathan's hand-crafted wooden chopping and serving boards with original pyrography drawings make lovely, unique gifts. They can be personalised with messages and names and can be made into a custom gift set with matching rolling pins, spoons or spatulas. The smaller children's baking boards and rolling pins are particularly popular! Send Jonathan an email if interested: jonathandowlingart@gmail.com
He'd love to hear from you!